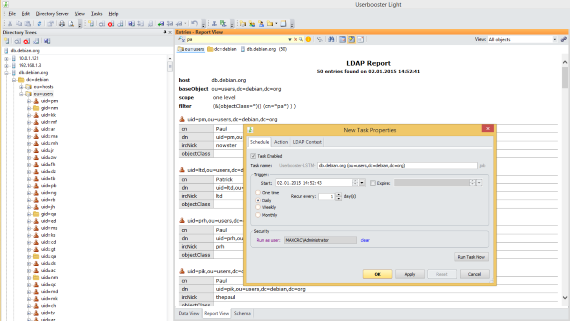 Completely revamped report functionality allows you to email an HTML report secured with SSL/TLS to particular recipients or schedule this as a task. And that with a couple of mouse clicks. You can also export LDAP entries in different formats (LDIF, CSV, XML, XLS) to a file on schedule, using this as data feed in your business workflows.
Reset Password dialog is now different for Active Directory and LDAP servers. The one for LDAP servers comes with different hash methods like SHA so you can avoid using external encryption tools.
It is now detected automatically whether the connected server is Active Directory or not.
Entry Template wizard has an additional step allowing you to set an RDN.
Schema is now in the main window under the tab "Schema". You can view its content through the filterable grid in the main window and through the Properties window. You can navigate to an element in the schema by clicking the link associated with it.
Changed the way you can add an attribute to an entry: empty attributes are now hidden so you should use the "Add attribute" combo box.
STARTTLS encryption.
Additional export options: Line break, value separator and field separator.
Fixed the implementation of referrals and DSA control which worked incorrectly.
Profile's read-only mode.
https://www.maxcrc.de/wp-content/uploads/2018/11/Anpassung-Logo_250-300x78.jpg
0
0
Support Support
https://www.maxcrc.de/wp-content/uploads/2018/11/Anpassung-Logo_250-300x78.jpg
Support Support
2018-11-30 15:20:34
2020-03-27 18:46:42
Userbooster Light v5.0